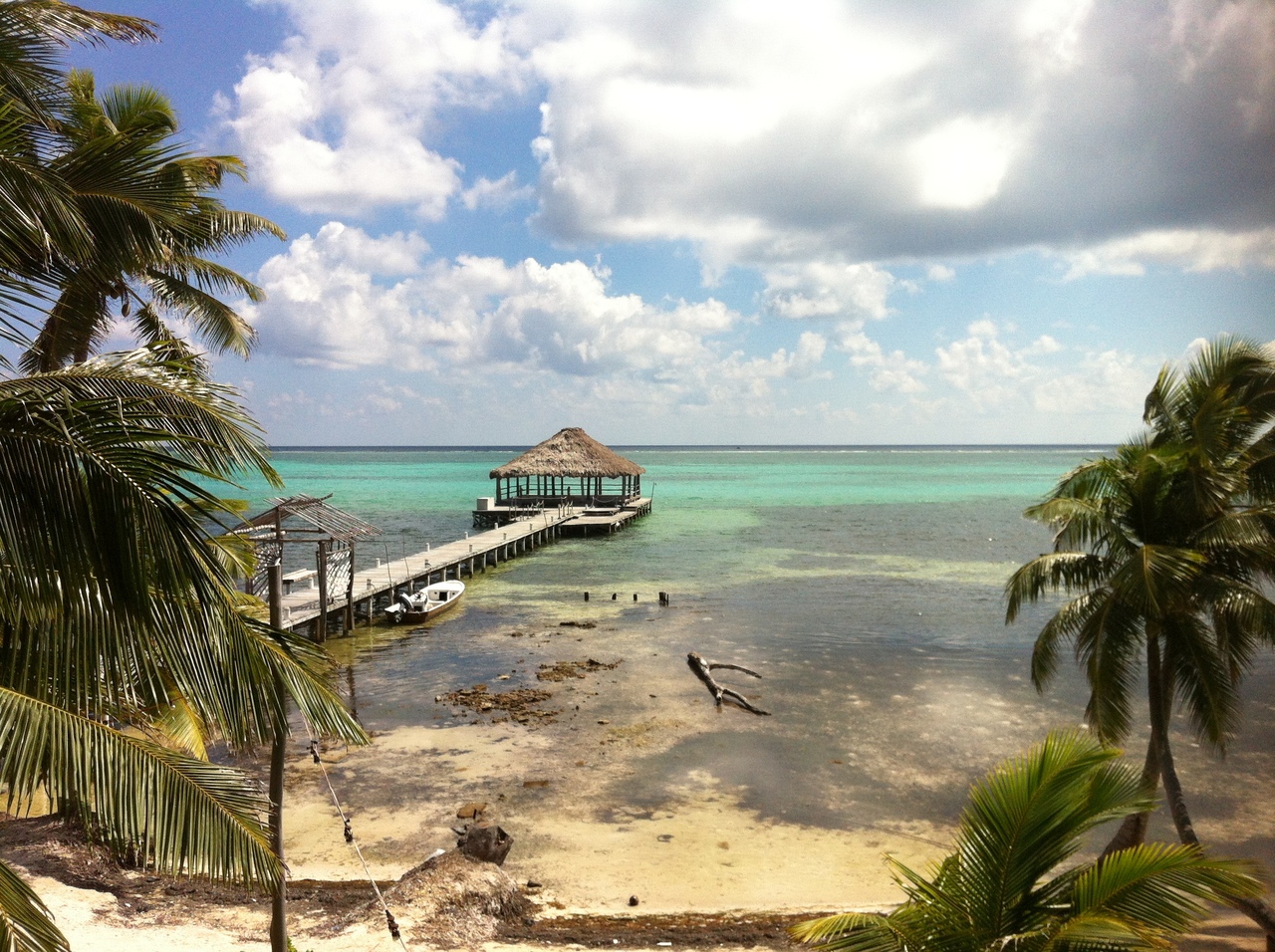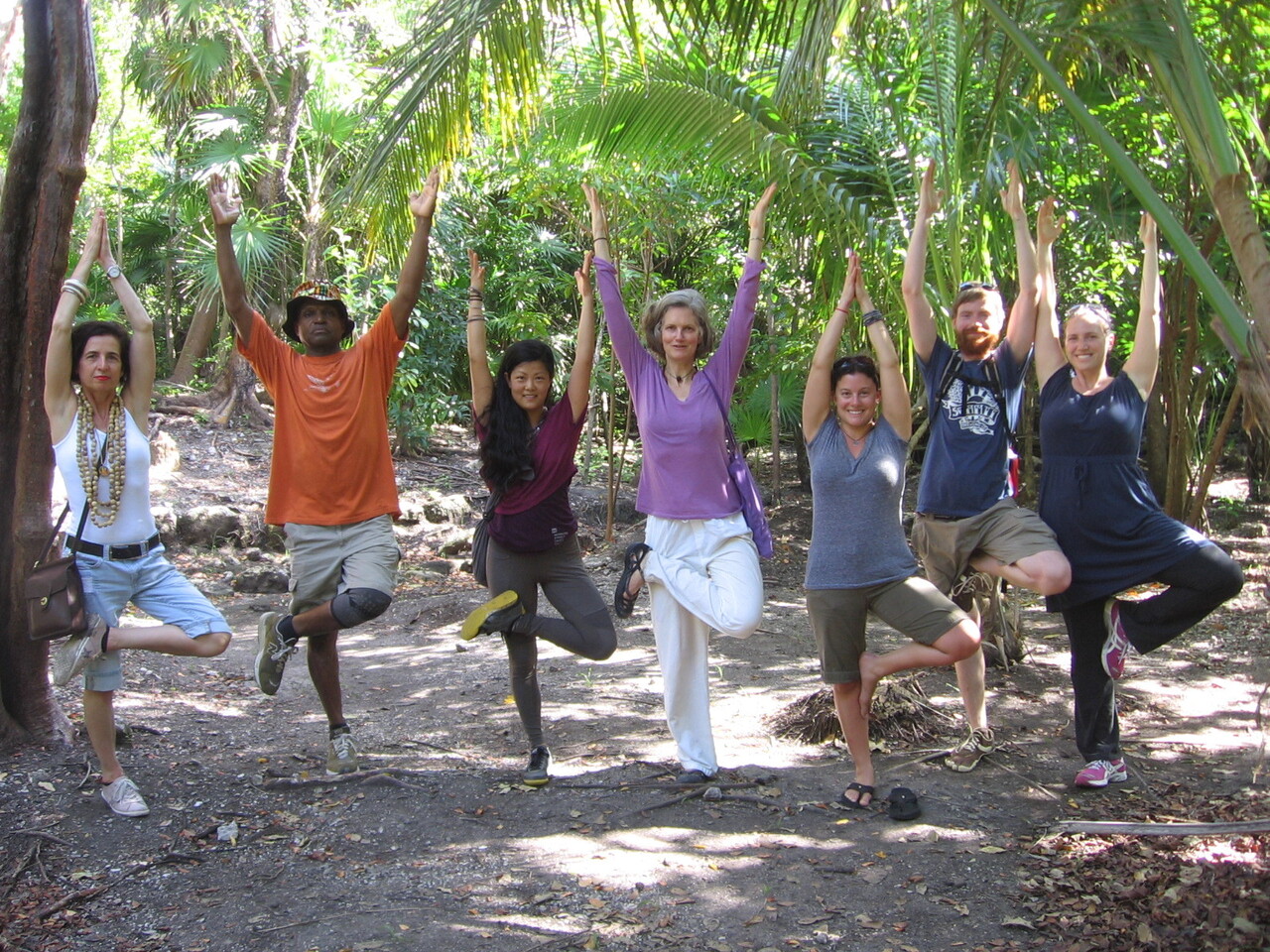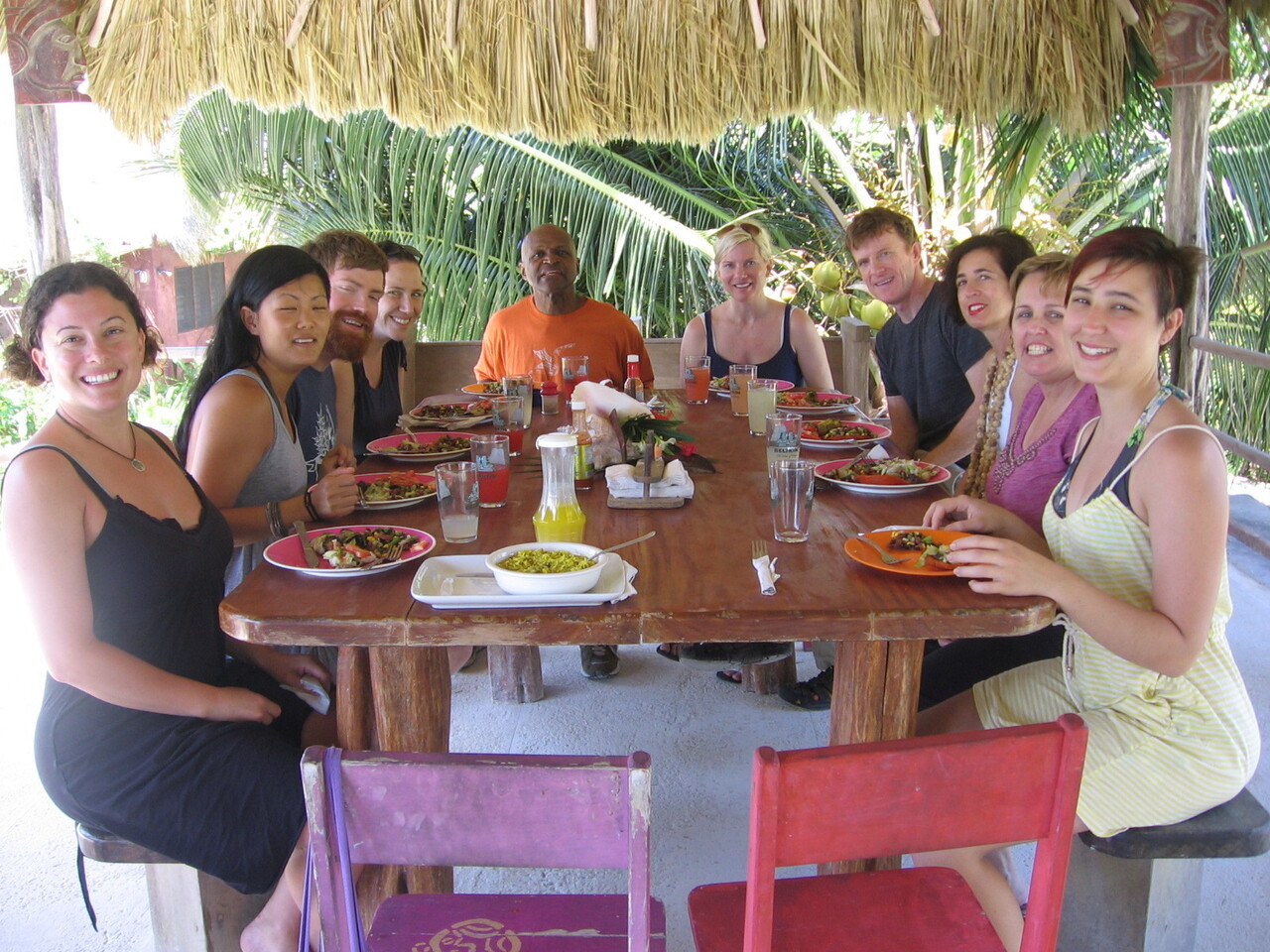 THE PATH TO BLISS
9th Annual Belize Yoga Vacation | February 18-25, 2023
Click here to see photos from a previous retreat.

Register early to reserve your spot
We have an affordable Village Room for you!

Escape winter, relax, and nourish body, mind and spirit at the beautiful, peaceful Ak'bol Yoga Retreat Center and Eco resort on the tropical island of Ambergris Caye.

Live Your Yoga!
Learn how to weave yoga's universal and inclusive spiritual underpinnings into daily life so that you can experience the inner peace that is your birthright with Kali Om, author of Beyond the Mat: Don't Just Do Yoga - Live It.

You will practice yoga twice a day on an exquisitely handcrafted, open-air studio, surrounded by the Caribbean Sea.
The morning practice is more active, while the afternoons will be more relaxing and meditative. The focus will be the eight limbs of yoga - a comprehensive system that includes postures, breathing, chanting and meditation, and is designed to quiet the mind so that we can experience our natural state of peace and bliss.
Our primary practice will be Dharma Yoga, a complete and healing practice named for NYC-based yoga master Sri Dharma Mittra, which includes postures, breathwork, Yoga Nidra, philosophy and meditation. It opens the body quicky, and adapts well to all levels (even raw beginners). Pose variations will be given so that all everyone feels comfortable / challenged. This retreat is suitable for all levels.*

The comfortable accommodations include eco-chic locally-crafted cabanas just steps from the sea, and affordable, Maya-inspired Village Rooms next to a beautiful lagoon. The meals will be fresh, locally-sourced home-made vegetarian cuisine that satisfies all six tastes and received rave reviews on previous trips – even from meat eaters. (Please note that on Wednesday night we will be free to stay on the grounds, take an excursion, or head into town for dinner).

Between classes, you may arrange a snorkeling trip (the world's second-largest barrier reef is a 20-minute boat ride away), a massage, a sailboat ride, diving trips, parasailing, cave tubing, kite surfing, paddleboarding, excursions to Mayan temples, a bike or boat trip to town, and more. Or you may simply stay on Ak'bol's peaceful, healing grounds - which include a fresh-water pool, three yoga studios, hammocks, many bird species, and a large beachfront.

Belize (the former British Honduras) is located in Central America, about five hours from Chicago via plane. English is commonly spoken, and the dollar is widely accepted. The peaceful cultural melting pot of Belize is home to unspoiled beaches and jungles as well as the second largest barrier reef in the world. It is also a destination for birdwatching.

United Airlines currently offers nonstop flights from Chicago that fit our schedule; Southwest, Delta and American Airlines also offer flights from Chicago to Belize. United has offered nonstop flights from Los Angeles, Denver, Toronto and other cities, plus you can now fly to BZE from Reno.

Kali Om (ERYT-500) is adjunct professor of yoga at DePaul University and author of the 2018 book Beyond the Mat: Don't Just Do Yoga - Live It. She has been teaching yoga since 1998 and is a disciple of Sri Dharma Mittra, with whom she completed 200, 500 and 800-hour teacher trainings. She also studied five times in India with ashtanga master Sri K. Pattabhi Jois and completed trainings with Manju Pattabhi Jois, Suddha Weixler and Dinah Rodrigues. In addition, she is certified in Therapeutic Yoga, Yoga Nidra, Seniors' Yoga, Gentle/Restorative Yoga, Prenatal Yoga, Rocket Yoga, Pranayama, Meditation, Psychic Development and Hormone Yoga Therapy for Menopause. Her cartoon and "Beyond the Mat" column appear in Yoga Chicago magazine, and she is co-chair of the Vivekananda East West International Yoga Festival.

ACCOMMODATIONS
A $500 deposit reserves your room. ROOMS ARE EXTREMELY LIMITED: PLEASE RESERVE EARLY
Please note that we do not match room-mates
Cabanas
Private, comfortable thatch cabanas just steps from the beach feature a woven thatch ceiling, river rock floors, mosaic countertops, queen size bed, additional loft bedroom, porch, and private bathroom with outdoor bamboo rain shower:
Seafront Cabanas (SOLD OUT)
Single (1 person): 2350
Double (2 people): 1750 per person
Triple (3 people): 1600 per person
Sea/Garden View Cabanas (SOLD OUT)
Single (1 person): 2200
Double (2 people): 1650 per person
Triple (3 people): 1550 per person


Village Rooms
Comfortable, affordable Village Rooms in a Maya-inspired building with long porch, lagoon views, and shared bath featuring hand-carved sinks, conch shell faucets, and rain showers. Adjoining rooms available:

Village Rooms (AVAILABLE)
Single (1 person): 1400
Double (2 people): 1300 per person; couples only


To Register
Please note that space is limited - especially cabanas, which typically sell out early - and your spot is not guaranteed until we receive your room deposit of $500. Final payment must be made by check or money order before January 8, 2023.

To reserve a room, please use Paypal (include Paypal fee*):
NAME:
EMAIL:
PHONE:
MAILING ADDRESS:
ACCOMMODATION REQUEST (BASED ON AVAILABLILITY)
NAME OF ROOM-MATE(S) IF APPLICABLE (EACH PERSON MUST SUBMIT A REGISTRATION FORM AND FEE)